Nano Magic Cloth
$14.99
✅ in stock
✅ 30-Day Money Back Guarantee
Paint Scratches? No problem! This Magical Fast Repairing Car Scratch Eraser is your ultimate solution! Blessed with Nano-Technology, you can remove scratches in NO TIME!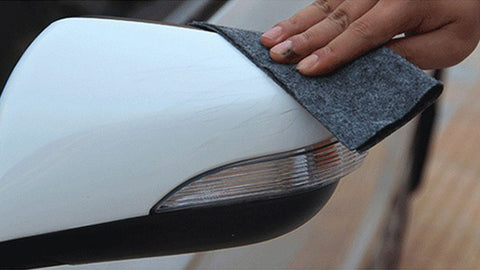 Product Features:
Special Technology: This eraser can break down scratch scratches, paint molecules, activated color difference with polyester fiber cloth, through the friction coefficient of micro-metal powder to achieve the effect of removing marks.
Widely Application: Repair Eraser mainly for minor paint surface treatment such as nail marks, shallow scratches, sand grinding marks, such as deep scratches do not hurt paint force more than a few minutes can also have a certain effect of desalination.
Easy To Use: Before using clean scratch surface, and so on the surface after drying out repair eraser in scratches place wipe, rub rub rub, until scratches disappear.
Reusable: Repair Eraser can be used repeatedly, if the force is heavier, as long as the same place with the repair eraser light push again with a dry cloth polished can restore the original luster.
Product Information:
Size: 20cm x 10cm
Weight: 0.06kg/2.1oz
Product Includes:
1 x Hirundo Magical Fast Repairing Car Scratch Eraser
Tips:
If the repair eraser falls on the ground sticky dust and sand, please do not use to avoid causing 2 scratches.
Can not be washed, if you feel that the repair eraser too dry can be a trace of water spray, use the bag sealed to save.
RETURN & EXHANGE:
We provide a 30-day return & exchange policy. For more information, please contact us at support@unicpuffin.com.
We understand that sometimes what you buy online doesn't work out exactly as you had hoped. If you are not 100% satisfied with your purchase, we will be happy to accept a return for a refund or exchange for products purchased directly from www.unicpuffin.com.
Returned items must be sent back within 30 days of delivery.

ORDER CANCALATION:
You'll have the option to cancel your order directly from your confirmation email within 1 hour.
Scroll down to find the "Contact us" section. If it's been longer than 60 minutes, email support@unicpuffin.com and we'll help find an alternative solution.
Orders ship within 2 to 5 business days.
Standard shipping (12-20 days) And Express Shipping (9-14 days)
Once your order is shipped, you'll receive a tracking number.
30-Day Money-Back Guarantee
If you are not satisfied with the product, then let us know within 30 days of purchase, and we will give you a full refund.
Monday to Friday : 9:30AM-6:30PM - Saturday: 9:30AM-5PM
email us at support@unicpuffin.com
Ensure payment security for every order.