Nano Magic Cloth
$14.99
✅ In Stock
Paint Scratches? No problem! This Magical Fast Repairing Car Scratch Eraser is your ultimate solution! Blessed with Nano-Technology, you can remove scratches in NO TIME!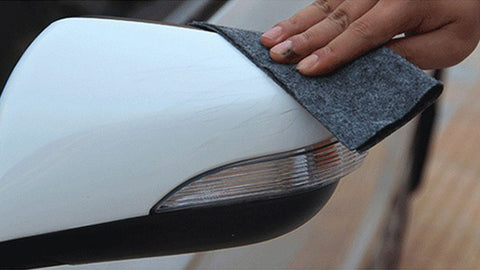 Product Features:
Special Technology: This eraser can break down scratch scratches, paint molecules, activated color difference with polyester fiber cloth, through the friction coefficient of micro-metal powder to achieve the effect of removing marks.
Widely Application: Repair Eraser mainly for minor paint surface treatment such as nail marks, shallow scratches, sand grinding marks, such as deep scratches do not hurt paint force more than a few minutes can also have a certain effect of desalination.
Easy To Use: Before using clean scratch surface, and so on the surface after drying out repair eraser in scratches place wipe, rub rub rub, until scratches disappear.
Reusable: Repair Eraser can be used repeatedly, if the force is heavier, as long as the same place with the repair eraser light push again with a dry cloth polished can restore the original luster.
Product Information:
Size: 20cm x 10cm
Weight: 0.06kg/2.1oz
Product Includes:
1 x Hirundo Magical Fast Repairing Car Scratch Eraser
Tips:
If the repair eraser falls on the ground sticky dust and sand, please do not use to avoid causing 2 scratches.
Can not be washed, if you feel that the repair eraser too dry can be a trace of water spray, use the bag sealed to save.
100% Secure payment with SSL Encryption.
If you're not 100% satisfied, let us know and we'll make it right.
Orders ship within 1 to 3 business days.