Herbal Detoxing Anti Cellulite Jelly Soap
$16.97
✅ In Stock
"Beatyshape™ HerbalDetoxing AntiCellulite Jelly Soap are made from natural herbs and herbal extracts. Supports the body's natural way of removing toxins through activated sweat glands. It can be used for 3 to 6 weeks to achieve a body contouring effect. I recommend this product not only because it's effective, but also because it's healthy."---Lisa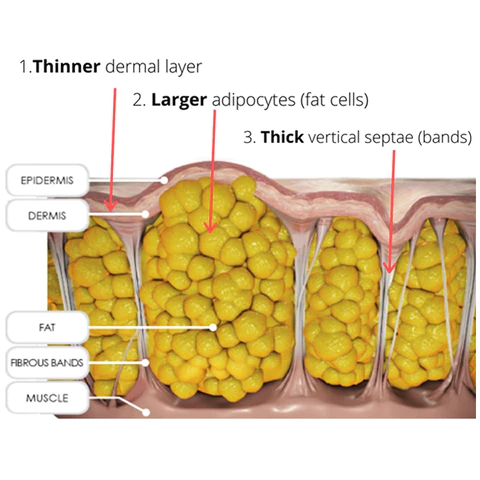 What is Cellulite Formation?
As fat cells increase, they push up against the skin. Tough, long connective cords pull down. This creates an uneven surface or dimpling, often referred to as cellulite.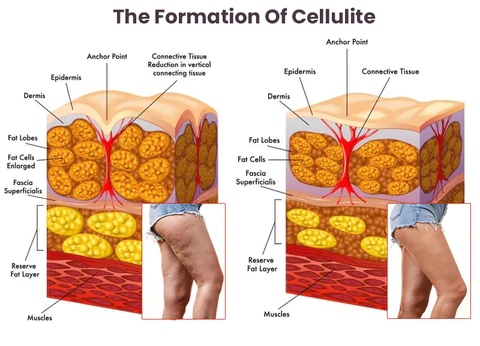 What can we do to eliminate these Cellulite Formation?
✅ Improve circulation
✅ Reduce inflammation
✅ Increase collagen regeneration; reduce breakdown and increase formation
✅ Release the tethering of the fibrous cords
✅ Reduce the size and number of fat cells
We know cellulite bothers many females and affects their confidence when they wear dresses or swimsuits in summer, that's why we are developing products to effectively help weight loss and reduce cellulite.
The Key Solution to remove body impurities: Beatyshape™ HerbalDetoxing AntiCellulite Jelly Soap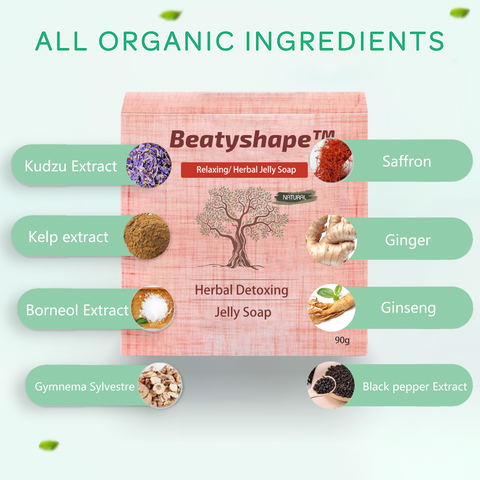 Borneol Extract:Natural herb , remove toxins from the body and increases blood circulation.
Black pepper Extract: Stimulates the liver to secrete bile, which plays a vital role in the digestion and absorption of fat.
Kudzu Extract: An Effective Fat Burner for Weight Loss,It can speeding up the metabolism and improve your digestive system naturally.
Kelp extract: Promotes lipid metabolism. Extracted from brown seaweed, kelp extract has powerful antioxidant properties and has been shown in clinical studies to activate thermogenesis, thereby boosting lipid metabolism and effectively burning stubborn white fat.
And A variety of plant-derived ingredients
Add 2 additional effective ingredients:
Ginger

L-Arginine
Ginger
Ginger contains powerful compounds called gingerols, shoals, and gingerdiones which are rich with antioxidant, antibacterial and anti-inflammatory properties that help stimulate the body's natural cleansing and detoxifying process by eliminating waste and toxins.
L-Arginine
L- Arginine contains an organic compound called amino acids. Amino acids are the building blocks of proteins that are essential for a variety of bodily processes and functions, including blood flow circulation, reducing swelling and flushing out toxins hidden in fat and bones. Our lymph system consists of lymph nodes that appear as lumps under the skin when the body is fighting infection brought on by germs such as bacteria and viruses. L- Arginine is clinically proven to absorb deeply in your body and open your lymphatic system, remove congestion and create healthy detoxification pathways to lighten your toxic and waste load accumulated in your lymphatic drainage.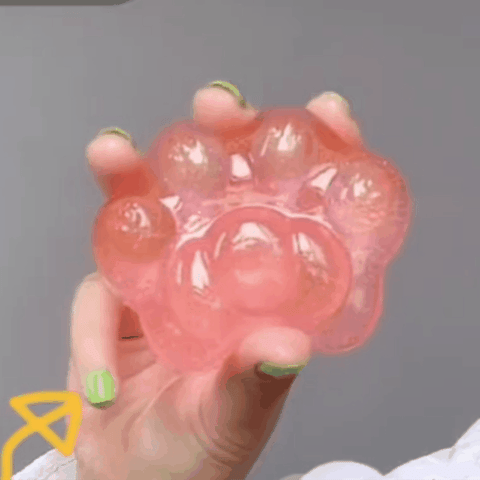 The endocrine system are very important detoxification pathways for the human body.That is why we created Beatyshape™ HerbalDetoxing AntiCellulite Jelly Soap - it contains ginger and L-Arginine with more than ten kinds of plant-derived ingredients, which are packed with natural properties that aids in reducing inflammation and eliminating toxins, help break down fat cells, reduce body weight and boost metabolism.
Let's take a look at kay's 6-week journey using Beatyshape™ HerbalDetoxing AntiCellulite Jelly Soap

"I was skeptical about this Beatyshape™ HerbalDetoxing AntiCellulite Jelly Soap and worried about the results of using it. But I still try to use this product. It has all the ingredients to help me lose weight. Using this product for only 1 week, I has lost 8 pounds."

"In just 3 weeks, I lose 18 pounds of my weight. Even I use this every day, I put the product to burn my fats. The perfect decision I ever made in my life. I even noticed that my abs are starting to shape."

"After the 6 weeks, my final results were incredible. I can say that it is a miracle to be sexy again. I lose 29 pounds. Proven and tested that this product is perfect and effective. Let my journey inspires everyone to lose weight hassle-free. The big change in just 6 weeks, 37 pounds gone!"---Kay Boice Seattle, Washington


"Every time I wear shorts or a skirt, my boyfriend dislike me. Because of my thick and ugly legs. When I saw Beatyshape™ HerbalDetoxing AntiCellulite Jelly Soap,I'm not sure but would like to try it myself after reading the reviews. I'm 4 weeks now and the results are real !!!! All those people who say these don't work are looking for them to help with a problem that doesn't exist! These 100% work. I have tried every way to slim down my legs. This is the first one that worked and see result ...I was surprised!!"
"
---Marilyn Smith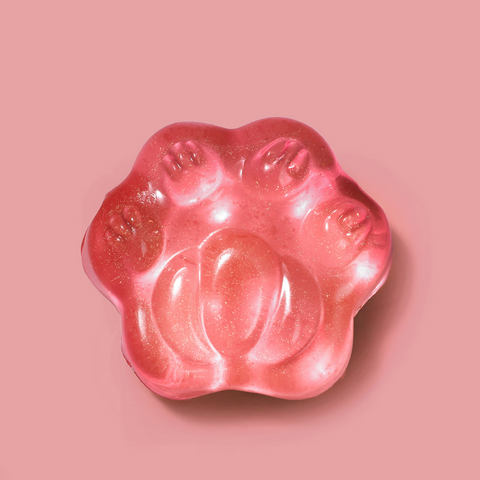 What make this Beatyshape™ HerbalDetoxing Jelly Soap special:
Beatyshape™ Herbal Detoxing Jelly Soap is completely handmade and contains all natural ingredients, including plant oils and natural herbal fragrances. It has passed strict quality test and is free of chemicals and dyes. In addition, it's vegan and contains no animal derivatives.
10X more fat cells reducing than other products

100% Natural Jelly Soap,

No alcohol added

No animal ingredients - Vegan

Not test on animals

This Jelly Soap can be used anytime for bath, body, face, head and hands

Non-allergenic - Its ingredients are ideal for all skin types and will not irritate sensitive skin

Repairing & Moisturising at the same time

Craftsmanship - Only the highest quality natural ingredients are used

Promotes metabolism and digestion for healthy weight loss

Reduces pain, fatigue and muscle tension safely and effectively

Promotes blood circulation

Cleanses your body and removes harmful substances
HOW TO USE?
1.Open the box and take out the HerbalDetoxing AntiCellulite Jelly Soap
2.After wetting the body, use the Jelly Soap to apply where you need it
3.There are rich bubbles when smearing, Spread evenly, wash and wipe with water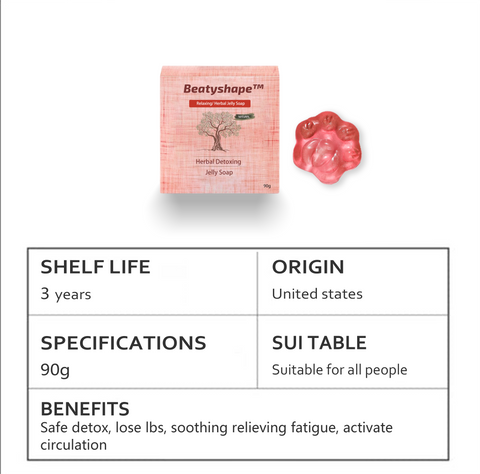 1 BOX OF Beatyshape™ HerbalDetoxing Jelly Soap
100% Secure payment with SSL Encryption.
If you're not 100% satisfied, let us know and we'll make it right.
Orders ship within 1 to 3 business days.